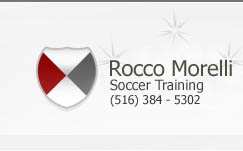 A Personal Message from Rocco
Rocco Morelli Soccer Training, like many sports, teaches your children valuable lessons they will have for life. For the casual athlete, regular exposure to an organized and professionally run soccer training program will help your child learn discipline, competition, and develop a healthy attitude towards regular fitness.

For the more advanced student, Rocco Morelli Soccer Training provides your child the opportunity to learn the most advanced techniques from a qualified and professional educator who is considered one of the best instructors in the country.

Both the casual and advanced student will share the common experience of having fun while they learn at their own paces. I believe, exposing children to opportunities of individual self development is what gives our kids valuable and personal experiences that help mold and mature them into responsible adulthood.

Sincerely,
Rocco Morelli

Rocco Morelli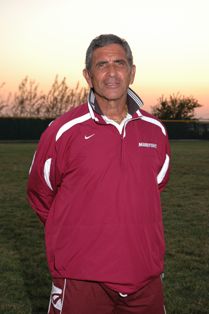 Rocco Morelli is one of the most accomplished soccer trainers and instructors in the United States. He is a senior instructor for the Eastern New York Senior Amateur Soccer Association. Spent six years as the head coach for the Long Island Junior Soccer League Academy and was the head coach for the SUNY Maritime College Men's Soccer team. Prior to Maritime, Morelli was the head men's soccer coach at Polytechnic University. Morelli holds a Level 2 Eastern New York Trainer's pass, 'A' License from LIJSL, the National Soccer Coaches Association's ("NSCAA's") State, Regional, Youth National, National, Advanced National, Premier and Professional Development licenses. Morelli has also been an Eastern New York ODP coach for six years and is an NSCAA/LIJSL instructor on Long Island. He is also a continuing education instructor at Nassau Community College. In addition, Mr. Morelli is a fully-certified United States Soccer Federation Referee.

Morelli was also a standout player. Among other accomplishments, he was an All American and achieved All-ACC honors while leading the University of Maryland to a National Championship in 1968. Morelli is still the only player to score six goals in his only six shots of an NCAA championship tournament; in the National Championship game alone, he scored four goals against San Jose State University. He is still the third all-time scorer in the history of Maryland Men's Soccer, even though he attended only two years. After college, Morelli played professionally and semi-professionally for various teams, including Inter-Giuliana, Brooklyn Italians. Fiorentina and Inter-Napoli of the Italian American League.

Morelli has been a student and instructor of the game for his entire life. By all accounts, he is a tireless worker, has exceptional organizational skills, is a visionary and creative thinker, has a passion for the game, has the highest moral character, and gets along very well with his colleagues, students and players.