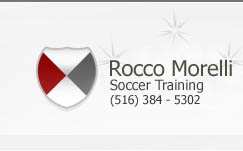 Personal Training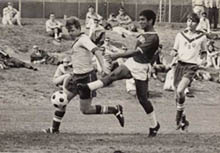 1 on 1 Personal Training
Rocco Morelli personal training is of the highest caliber. We provide specialized training in over 50 skills.
Each session lasts one hour and is formatted to cover the physical demands, the technical demands, and the tactical awareness that the game offers. The training is designed to simulate the game and the skills needed to succeed in specific situations, like 1 v. 2, 3 v. 2, 1 v. 1, and more.
The personal training focuses on skills needed at every position, but most importantly, focuses on individual growth of the player. Development is the ONLY ISSUE. We put the individual first.
If you are interested in booking a training session please check the contact us page...

Contact Us

News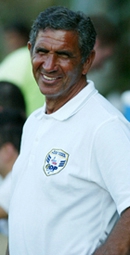 University of Maryland
Morelli honored on national tv for being a member of the 1968 National Team at the University of Maryland



More

Calvert Vaux Park
2018 tournament in Brooklyn at Calvert Vaux Park



More

Rocco Morelli Honored as Personality of the Month in Eastern New York
As Columbus Day approaches next week, the Eastern New York Youth Soccer Association (ENYYSA) is very pleased to honor a proud Italian-American who has done a lot for the game, Rocco Morelli, as our Personality of the Month for October.



More

More

2017 Summer Volunteer Training
Rocco Morelli dedicated time once again during the 2017 summer months to help those less fortunate. Rocco spent time working with refugees from Ghana, Gambia, Nigeria, Niger who escaped the war for a better future. Most are survivors who saw hundreds of men, women and children die when their boats capsized. Rocco worked with the group, helping to distract them while allowing them to experience the joys of soccer, helping them to forget their troubled pasts. Rocco donated his time and provided uniforms to the players.



More

Advanced Soccer Training - Marco Island, FL
Rocco Morelli providing some advanced soccer training to a group of dedicated advanced soccer players on Marco Island, Florida. These players have demonstrated a tremendous amount of determination, pride, leadership, high work rate, coach-ability and most of all love for the game.



More

2014 Summer Volunteer Training Trip
Rocco Morelli dedicated time during the 2014 summer months to help those less fortunate. Rocco spent time working with refugees from Ghana, Gambia, Nigeria, Niger who escaped the war for a better future. Most are survivors who saw hundreds of men, women and children die when their boats capsized. Rocco worked with the group, helping to distract them while allowing them to experience the joys of soccer, helping them to forget their troubled pasts.



More

Rocco Morelli to Coach Long Island Junior Soccer League U18 Select Team.
Rosters have been announced and Rocco Morelli has been chosen as the Head Coach of the LIJSL - Long Island Junior Soccer League U18 Selection Team. Rosters for the U18 Selection Team and U17 National Team can be found below.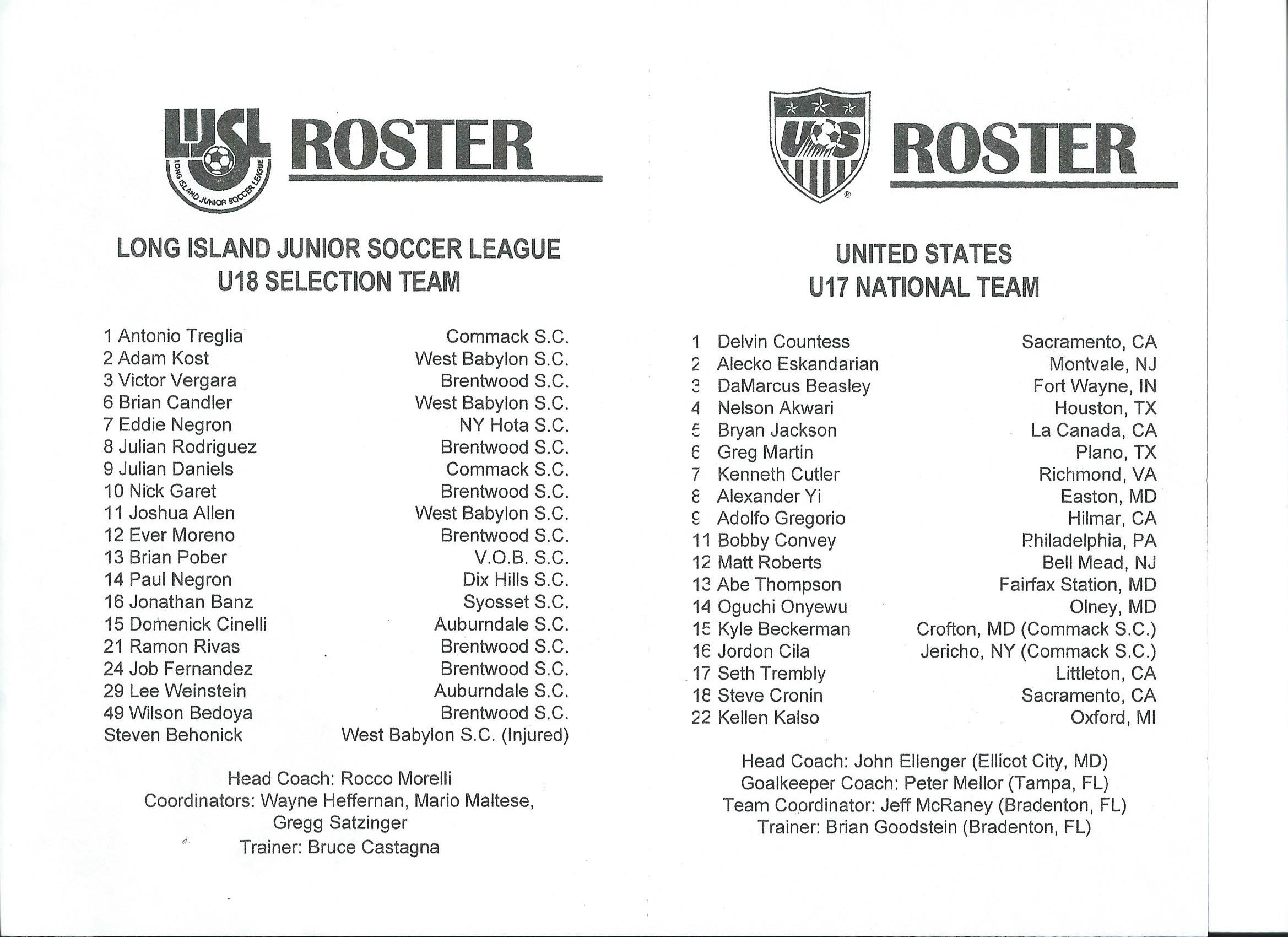 2012 Disney Showcase won by Florida Fire Junior's U-14 Boy's Premier Team headed by Coach Rocco Morelli.
In the prestigious 2012 Disney Showcase Soccer Tournament, the Naples-based Florida Fire Junior's U-14 Boy's Premier Soccer Team defeated the highly-touted Georgia U-14 Premier Boy's Team in Penalty Kicks following a scoreless overtime. The noted Georgia team scored two goals within the first fifteen minutes of the game and, in response, Coach Rocco Morelli began making adjustments with respect to both player positions and strategy. At half time, the score remained 2-0 in favor of Georgia. Coach Rocco Morelli, of the Florida Fire Junior's U-14 Boy's Premier Team, continued assessing the opponent's strengths and weaknesses and continued making critical and necessary adjustments during the game which not only rendered the revered offense of the acclaimed Georgia team ineffective but, moreover, effectuated scoring opportunities for the Florida Fire Junior's Team. With ten minutes left in the game, Weston Maki of the Florida Fire Junior's team scored a header, thus, causing the game to be 2-1. With literally mere seconds left in the game, Christopher Pilavis scored a header for the Florida Fire Juniors team off of a rebound shot initiated by Gerardo Martinez, thus, tying the game 2-2. The game proceeded to overtime, where Coach Morelli's strategies continued to offset and negate the ever-changing strategies attempted by the Coach of the Georgia team. At the end of the overtime period, neither team scored and the game proceeded to Penalty Kicks where the Florida Fire U-14 Boy's Premier Soccer Team emerged victorious literally plucking the victory away from the highly acclaimed Georgia U-14 Premier Boy's Team.

Kudos to all the players on the Florida Fire U-14 Boy's Premier Soccer Team and congratulations to Coach Rocco Morelli for his exemplary coaching style and for his leading his team to victory despite the opponent's capturing a dominant, early lead.



More

Announcing Our New Technical Director, Rocco Morelli
The Marco Island Soccer Club is proud to welcome Rocco Morelli as our new Technical Director. Mr. Morelli brings a vast amount of knowledge and experience to the club both from a playing and training perspective.

Rocco Morelli is one of the most accomplished soccer trainers and instructors in the United States. He is a senior instructor for the Eastern New York Senior Amateur Soccer Association. Spent six years as the head coach for the Long Island Junior Soccer League Academy and was the head coach for the SUNY Maritime College Men's Soccer team. Prior to Maritime, Morelli was the head men's soccer coach at Polytechnic University. Morelli holds a Level 2 Eastern New York Trainer's pass, 'A' License from LIJSL, the National Soccer Coaches Association's ("NSCAA's") State, Regional, Youth National, National, Advanced National, Premier and Professional Development licenses. Morelli has also been an Eastern New York ODP coach for six years and is an NSCAA/LIJSL instructor on Long Island. He is also a continuing education instructor at Nassau Community College. In addition, Mr. Morelli is a fully-certified United States Soccer Federation Referee.

Morelli was also a standout player. Among his accomplishments, he was an All American and achieved All-ACC honors while leading the University of Maryland to a National Championship in 1968. Morelli is still the only player to score six goals in his only six shots of an NCAA championship tournament; in the National Championship game alone, he scored four goals against San Jose State University. He is still the third all-time scorer in the history of Maryland Men's Soccer, even though he attended only two years. After college, Morelli played professionally and semi-professionally for various teams, including Inter-Giuliana, Brooklyn Italians. Fiorentina and Inter-Napoli of the Italian American League.

Morelli has been a student and instructor of the game for his entire life. By all accounts, he is a tireless worker, has exceptional organizational skills, is a visionary and creative thinker, has a passion for the game, has the highest moral character, and gets along very well with his colleagues, students and players. The Marco Island Soccer Club is excited to have such a phenominal trainer associated with our organization.

A Soccer Story
It was just about a year ago, on a cool and beautiful Saturday morning and I was sitting by the pool scanning the internet for interesting stories to read. I came across some soccer stories, checked them out and got nostalgic. It had been almost 40 years since I played organized soccer at the University of Maryland. As a goalie, I always had the best seat (or stand) at the stadium. We had a great team and we beat almost anyone whom we played; 1968 NCAA Champions and ACC Champions year after year.

I started to think about the members of the team and wondered what they were doing, where they might be and if I could somehow find them. I decided to Google the name of scoring star, Rocco Morelli. And there he was, owner of the Rising Star Soccer Academy in Long Island, NY. I sent Rocco an email with my personal information and within minutes he was on the telephone.

We talked for a long time reminiscing about the days back at College Park. Rocco mentioned that he was retired and wanted to buy a condo on the East Coast. It was not hard to convince him to come to the West Coast instead and he was here within a week. Rocco fell in love with our beach and he decided to spend his winters down here.

Some friendships last for a life-time and our friendship which started back in the late 1960's has persevered to this date. Rocco lived an interesting life as a Special Agent, travelling to many countries pursuing criminals. He is now settled on our beautiful Island and would like to continue his life adventure by teaching the Islanders what he knows about the game of soccer.

Rocco was born in Amantea, Italy in the Calabria region. His father immigrated to Brooklyn, NY, and soon Rocco joined him when he was 15 years old. After high school where he was a soccer star, Rocco attended Staten Island Community College with the same success. He transferred to University of Maryland in 1968 and that is where we met.

Under Coach Doyle Royal, we were National Champions in 1968 and won the ACC in 1969, the year Rocco graduated. He was drafted by the Washington Diplomats but the team lacked financial backing and folded before he could play. After working for a major bank and KLM Airlines, Rocco joined the Department of Justice as a Special Agent until his retirement in 1995. He opened his soccer academy after retirement and still continues to teach fundamentals of the game to young men and women.

Rocco and I are now coaching fourth and fifth grade girls in the Optimist Soccer program on Marco Island. Soccer is a beautiful game and teaches discipline, sportsmanship, friendship and psychological awareness.

Marco Islanders who are interested in learning more about the game, one-on-one private instructions for getting a coaching certificate or players who want to improve their techniques can contact Rocco Morelli at trainer1221@aol.com or at 516-384-5302.

The experience will be well worth the time and expense.



More

Rocco Morelli saw the need and responded...
While vacationing in Italy Rocco was reading about the more than 48,000 immigrants from Libya and Tunisia that have arrived in Italy since the beginning of the year, fleeing the unrest in their host country. Many of these immigrants did not have money or anything to occupy their time, resulting in increased crime and other associated issues in many parts of the country.

Seeing the need, Rocco gathered over 30 immigrants from 8 different African countries together, purchased uniforms and soccer gear for them and provided hours of soccer training (both technical and tactical) each day of his vacation. Rocco became the mentor and father figure for these 30 plus immigrants, helping and advising them in all aspects of their life.

There was many positives that came from this experience... these young men from various countries did not typically get along together but with Rocco as the role model and the focus on playing soccer, these men played and interacted together as one BIG Happy Family. Local politicians came from all over the country to view this success story and wanted to see this pilot replicated throughout the country. Refugees who were placed in other parts of Italy heard of this training and wanted to be relocated so they can take part in the training and be part of these teams. People were coming from all over the country to see this soccer success story that resulted in decreased crime with Rocco Morelli donating his time and energy to give these young men a direction and something to aspire for.



More

Men's Soccer Coach Honored
THROGGS NECK, NY- Head men's soccer coach Rocco Morelli was inducted into the Eastern New York Soccer Hall of Fame in Franklin Square, NY on Saturday, December 8 2010. Morelli was honored for his long-time involvement with the sport as both a player and a coach.

Morelli came to the United States from Italy when he was 15 and went on to play soccer at University of Maryland, a Division I program, where he earned All-America honors and led the Terrapins to the national championship game in 1968. He continued his soccer career at the semi-professional and professional levels, playing with the Fiorentina and Napoli teams of the Italian American Soccer League and for Inter Guiliana and the Brooklyn Italians of the Cosmopolitan Soccer League. He is also a staff instructor for the Long Island Junior Soccer League's coaching academy and has been an ENYYSA ODP coach.

A retired special agent with the U.S. Department of Justice, Morelli now works as the head soccer coach at SUNY Maritime after five years coaching the Polytechnic men's varsity squad.


Morelli named Skyline Coach of the Year
Throggs Neck, NY - Rocco Morelli, head men's soccer coach, was named the Skyline Conference Coach of the Year as announced by the commissioner's office on Wednesday November 9th 2010. In his first season with the Privateers, Morelli coached the team to their best season in almost a decade finishing fourth in the conference with a record of 4-5, 9-8 overall, and made a first round appearance in the conference championship tournament, a tournament in which only the top four teams advance to. The Privateers were 1-14-1 overall and 0-8-1 in the conference, prior to his arrival.

The Maritime College Athletic Department would like to congratulate Coach Morelli on this great accomplishment.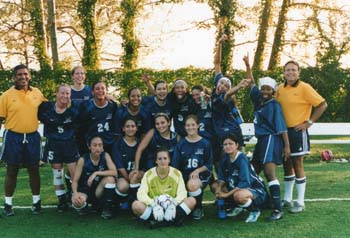 Rising Star Summer Soccer Camps
Recently we merged our Rising Star soccer program with the Hempstead Economic Opportunity Commission of Nassau County, Inc. (EOC), thus creating a program greater than either of our groups could have done separetly. The free program offered all day soccer clinics for over 250 youths from 8 to 16. In addition we held clinics for a series of other camps from churches and schools for another 650 youths. The EOC fully endorsed the emphasis on character and the teaching of natural virtue. Their staff attended our two-day trainer at Molloy College in June and participated in classes offered by Assistant District Attorney Risco Mention-Lewis. The LI Jr. Soccer League provided head coach Rocco Morelli who ran clinics for the Hempstead camp and also led the new Westbury / New Cassel camp.

The camps provided a structured sports program for many deprived youths all summer and now offers a fall program of six active LI Jr. Soccer League teams, keeping them away from the dangers of street life. Edgar Martinez and Rueben Renderos, the top two assitant coaches in the program know first hand of the dangers of the gang life. They joined the program as young boys with another friend of theirs. They struck with the program, the other young boy dropped out, joined a gang, and was killed on these streets of Hempstead. Reuben and Edgar are now sophomores in college on full scholarship (one having been voted best H.S.). The television channel Telecare 25 is featuring these young men on their Latino show.