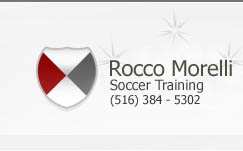 Testimonials
"We had a difficult time getting our oldest son to take interest in any sports or any regular exercise routines. He was always more interested in video games. After just one week of soccer training with Rocco Morelli, Brian began to look forward to his practice sessions. Now, soccer is his favorite of three sports he participates in, all year long."
-Jaime Kendall
Garden City, NY



"My daughter took to soccer at a very young age, and always seemed to be the best player on her teams. We enrolled her in Rocco's soccer training programs to see if a higher level of education would maximize her natural talents. I had no idea how much she would learn in such a short amount of time. Rocco provided our daughter with a personal coaching relationship she wasn't getting in any other organizations."
-Kevin McGinty
New Hyde Park, NY
"I played soccer for 15 years myself, so I know when I see a good coaching professional that truly cares about his students. Knowing how to play soccer doesn't mean I know how to teach it. Rocco Morelli is an excellent and patient teacher of the game."
-Jason Salvador
Dix Hills, NY

"Everything is practice. Success is no accident. It is hard work, perseverance, learning, studying, sacrifice and most of all, love of what you are doing or learning to do." -Pele
Rocco Morelli Soccer Training is a professional soccer training group, which provides soccer players, with the skills and knowledge to take them to the next level of the game. Our mission is to focus on player development by delivering a positive, high quality and enjoyable soccer education. We will provide high quality staff with Level 2 Eastern New York Trainer's pass, 'A' License from LIJSL, and NSSCAA Premier and Professional Development licenses. Our mission is to deliver high quality tailored programs based on the need of the client.


Rocco Morelli Soccer Services


Small Group Training
1 on 1 Personal Skills Training
Team Skills Training
Team Management and Coaching
Tryouts
Team Camps
School Coaching

More Pictures